Scheduled Exhibition The World of From Multi-color Prints of the Edo and Meiji Periods To the Modern Woodblock Print-A Genealogical Exhibition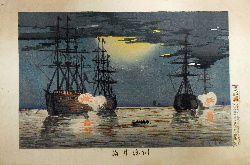 Exhibit Period
Friday, January 23, 2015 - Sunday, March 1, 2015
Exhibit Times
9:30 a.m. - 5:00 p.m.
(last admissions at 4:30 p.m.)
Organized by
Nakagawa-machi Bato Hiroshige Museum of Art
Museum closed
December 1, 8, 15, 22, 24-31; January 1-2, 5, 13
Admission Fee
Adults: 500 (450) yen High School, College Students: 300 (270) yen * Fees in parentheses are group rates for 20 or more visitors * Free admission for visitors aged over 70 years, elementary and junior high school students, and preschoolers * Half price for visitors with a physical disability certificate, and half price for one accompanying caregiver
Overview
In the years of the late Edo Period and the Meiji Period, when multi-color prints had been circulating as a popular form of mass media, woodblock engraving techniques developed to a high level, and ukiyo-e artists competed with each other in their artistic skills while disseminating information to the general public. The types of multi-color prints-actor prints, figure prints, famous places prints (landscape prints), etc., and sugoroku game boards, Genji prints, highway prints, caricatures, etc.-expanded in the Meiji years to include kosenga prints, Yokohama prints, enlightenment prints, multi-color versions of newspapers and others; the multi-color print played a central role as a source of the information ordinary people wanted.
 However, in the Meiji Period cameras and lithography presses imported from the west came into widespread use, leading to the rapid decline of the multi-color print. The techniques for multi-color printing were tenuously preserved through the reproduction of works by Utamaro, Sharaku and Hokusai for the export market. As we come to the Taisho years, Watanabe Shozaburo, lamenting the decline of the multi-color print, began a new creative movement for multi-color printing he called the Shin Hanga (New Woodblock Print) Movement. Hashiguchi Goba and Ito Shinsui drew figures, Kawase Hasui and Ezumi Ishinami drew landscapes, and Natori Shunzen drew actors-artists such as these and others produced their works with multi-color print techniques. Works created in this form were called shin hanga, reaching their zenith in the Taisho and early Showa Periods. Shin hanga sublimated the woodblock into the realm of the arts, and became the basis for modern day woodblock print art.
 In this exhibit, you will be able to follow the development of multi-color ukiyo-e prints from when they were used as a mass media tool in the Edo Period, to the Taisho and early Showa Periods when the woodblock print came to be treated as a work of art as a result of the Shin Hanga movement, begun in the Meiji and early Taisho years when the multi-color print was in decline. We would like to express our heartfelt appreciation to the Kawasaki Isago-no-Sato Museum for their cooperation in making this exhibit possible.
Museum Talk
Saturday, January 24, from 1:30p.m.
(presented by a Bato Hiroshige Museum curator, museum admission fee required)