Scheduled Exhibition The Aoki Collection-Tokutomi Soho and Aoki Tosaku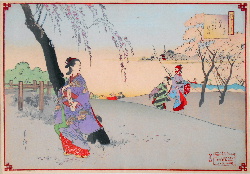 Exhibit Period
Friday, March 6, 2015 - Sunday, April 12, 2015
Exhibit Times
9:30 a.m. - 5:00 p.m.
(last admissions at 4:30 p.m.)
Organized by
Nakagawa-machi Bato Hiroshige Museum of Art
Museum closed
December 1, 8, 15, 22, 24-31; January 1-2, 5, 13
Admission Fee
Adults: 500 (450) yen High School, College Students: 300 (270) yen * Fees in parentheses are group rates for 20 or more visitors * Free admission for visitors aged over 70 years, elementary and junior high school students, and preschoolers * Half price for visitors with a physical disability certificate, and half price for one accompanying caregiver
Overview
Our museum's Aoki Collection was the private collection of entrepreneur Aoki Tosaku, whose hometown was the Hasamada district of Niita Village (in modern-day Sakura City), Tochigi Prefecture.
 Tosaku first encountered the magazine Kokumin no Tomo (The People's Friend), when he was seventeen. It was the publication of then up-and-coming journalist Tokutomi Soho (1863-1957), and Tosaku was deeply impressed. Once he had visited Soho's home and interacted with him, Tosaku looked up to Soho as his mentor, and supported his activities for nearly 60 years, until his own death. For a while during that time, Soho became a member of the House of Peers, but after he left the political world he devoted himself to newspaper projects and the editing of "A History of Early Modern Japan."
 Even in Tosaku's art collecting, Soho's influence was great, and through that network he assembled an extensive collection. Fifty years after Tosaku's death, in February 1997, these works were donated to the Town of Bato (now part of the Town of Nakagawa). Along with introducing one aspect of Soho's relationship with Tosaku through his writings and related materials, this exhibit will put on display works from the Aoki Collection which depict Spring. Savor these works, and experience the coming of Spring.
Museum Talk
Saturday, March 7, from 1:30p.m.
(presented by a Bato Hiroshige Museum curator, museum admission fee required)