Special Autumn Exhibition Hokusai and Hiroshige: Masterworks of The Two Great Ukiyo-e Masters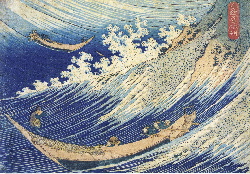 Exhibit Period
First Half: Friday, September 12 - Monday, October 13, 2014
Second Half: Saturday, October 18 - Monday, November 24, 2014
Exhibit Times
9:30 a.m. - 5:00 p.m.
(last admissions at 4:30 p.m.)
Organized by
Nakagawa-machi Bato Hiroshige Museum of Art
Museum closed
September 16,22,29; October 6; the exhibit change period (October 14-17); October 20,27; November 4,10,17
Admission Fee
Adults: 700 (630) yen High School, College Students: 400 (360) yen * Fees in parentheses are group rates for 20 or more visitors * Free admission for elementary and junior high school students, and preschoolers * Half price for visitors with a physical disability certificate, and half price for one accompanying caregiver
Overview
Ukiyo-e popularity is split between Katsushika Hokusai (1760-1849) and Utagawa Hiroshige (1797-1858). In their ukiyo-e landscape prints, these two men have left us with numerous masterworks from their remarkable activity at the end of the Edo Period.
 Katsushika Hokusai is known around the world as the creator of the most famous ukiyo-e works, including "The Great Wave at Kanagawa," included in his Thirty-six Views of Mt. Fuji. These works were published around the end of the Bunsei Era (1818-1830). This series looks at Mt. Fuji from various locations around the Kanto Plain; he artistically distinguishes the differences in the way the mountain looks from each location, bringing the landscape to the forefront instead of relegating it to the background of prints featuring people or famous stories as had been done in the world of ukiyo-e up until that time, and triggering the popularity of famous places art.
 In the midst of the famous places art boom that followed, it was Hiroshige who distinguished himself. Several years behind Hokusai's Thirty-six Views of Mt. Fuji, Hiroshige released the Fifty-three Stages of the Tokaido series, jointly published by the Takeuchi Magohachi and Tsuruya Kiemon publishing houses. Featuring famous places along the Tokaido Highway in the oban format for the first time, this series was a huge hit. Thereafter, Hiroshige secured his place as the leader in famous places art.
 In this exhibit, we gather in one exhibit the most important landscape prints of these men, including Hokusai's Thirty-six Views of Mt. Fuji, Journey to the Waterfalls of the Provinces, Unusual Views of Celebrated Bridges in the Provinces, and Hiroshige's Hoeido version of Fifty-three Stages of the Tokaido, and Thirty-six Views of Mt. Fuji. We also introduce in conjunction with these prints the only rarely-exhibited Oceans of Wisdom and Snow, Moon, Flowers by Hokusai, and priceless hand-painted works by Hokusai and Hiroshige.
 Please satiate yourselves with the fabulous world of art which the two great masters of the landscape print, Hokusai and Hiroshige, have unfurled for us.
Museum Talk
Saturday, September 13, from 1:30p.m.
Saturday, October 18, from 1:30 p.m.
(presented by a Bato Hiroshige Museum curator, museum admission fee required)