Summer Special Exhibition The Cat's Meow : An Exhibition of Ukiyo-e Felines Beckoning Good Fortune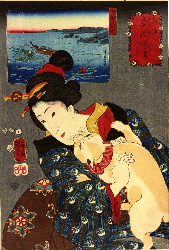 Exhibit Period
First Half: Friday, July 4 - Sunday, August 3, 2014
Second Half: Friday, August 8 - Sunday, September 7, 2014
Exhibit Times
9:30 a.m. - 5:00 p.m.
(last admissions at 4:30 p.m.)
Organized by
Nakagawa-machi Bato Hiroshige Museum of Art
Museum closed
July 7,14,22,28; the exhibit change period (August 4-7); August 18,25; September 1
Admission Fee
Adults: 700 (630) yen High School, College Students: 400 (360) yen * Fees in parentheses are group rates for 20 or more visitors * Free admission for elementary and junior high school students, and preschoolers * Half price for visitors with a physical disability certificate, and half price for one accompanying caregiver
Overview
Cat stationery and cat t-shirts, cat video games and cat blogs. Looking around, cat goods inundate us, and Japan is now facing an unprecedented feline boom. We might be tempted to think that many people are seeking out the cat's healing powers because of the stresses of the modern era, but in fact, there was also a cat boom about 200 years ago, in the Edo Period.
 It is said that it was in the Nara Period that cats made their way across the oceans and arrived in Japan. Afterwards, cats were kept on a leash as pets by the Emperor and nobles, but once the Shogunate encouraged people in the early Edo Period to let cats run free as a measure to control damage by mice and rats, familiarity formed between cats and humans, and the feline finagled its way into the everyday life of the general public.
 The cat first appears on the scene in ukiyo-e of the early Edo Period, but with the emergence of the cat-loving artist Utagawa Kuniyoshi in the latter Edo Period, it comes to be depicted in ukiyo-e art in various and diverse forms. There's the woman who appears as a cat, the cat who protects silkworms from mice and rats, the cat who steals fish, the dancing cat and the performing cat. Furthermore, there's the cat with the face of an actor, the monster cat and other such cats were drawn. Once Kuniyoshi's cat pictures gained popularity, his pupils carried on the tradition, and frequently created ukiyo-e cat art. The cat boom didn't stop with ukiyo-e. In various places they made dolls modeled on the cat, and at the end of the Edo Period a short love song called "Neko Ja Neko Ja" (That's a cat, That's a cat!) even was composed.
 In this exhibit, along with the various forms of diverse cats drawn in ukiyo-e art, we introduce "maneki neko" (cat dolls with a paw beckoning good fortune) from locations around Japan, a tradition that has continued since the Edo Period. It's our hope you will be able to enjoy a brief interlude of relaxation through this interaction between cat and human during the Edo Period.
Museum Talk
Saturday, July 5, from 1:30p.m.
Saturday, August 9, from 1:30 p.m.
(presented by a Bato Hiroshige Museum curator, museum admission fee required)
Lecture
Commemorative Lecture
Saturday, August 2, 2014, from 1:30 p.m. (participation is free).
Location: Bato Fukushi Center
(about a 3 minute walk from the museum)
Lecturer: Natsume Fusanosuke(Professor, Gakushuin University Graduate School; manga critic)
Title: The grandson of Natsume Soseki and Mita Heibonji talks about I am a Cat and One Hundred Kinds of Hobby Cats