Scheduled Exhibition Cultural Enlightenment & the Steam Locomotive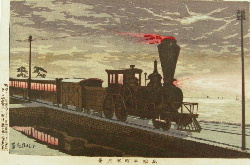 Exhibit Period
Friday, August 9 - Sunday, September 8, 2013
Exhibit Times
9:30 a.m. - 5:00 p.m.
(last admissions at 4:30 p.m.)
Organized by
Nakagawa-machi Bato Hiroshige Museum of Art
Museum closed
August 19, 26, September 2
Admission Fee
Adults: 500 (450) yen High School, College Students: 300 (270) yen * Fees in parentheses are group rates for 20 or more visitors * Free admission for visitors aged over 70 years, elementary and junior high school students, and preschoolers * Half price for visitors with a physical disability certificate, and half price for one accompanying caregiver
Overview
In the West, the steam locomotive first ran in 1825 between Stockton and Darlington in England. In Japan, the rail between Shimbashi and Yokohama was officially opened 47 years later, on September 2, 1872. However, the locomotive and passenger cars were imported from England, the railroad design was carried out by Edmund Morel of England, and an English man piloted the locomotive. It took more than six hours to walk between Shinagawa and Yokohama, but the steam locomotive made the trip in about 53 minutes. This kind of speed was astounding to the people of the time. The prices of seats were divided into three levels: a first-class seat was 1 yen 12 sen 5 ri; second class was 75 sen, and third-class was 37 sen 5 ri (for reference, 50 sen at the time had about the same value as 5000 yen today); these passenger fares were so expensive that the only people who could afford to use the train were non-Japanese in Japan to trade, hired non-Japanese workers, and affluent Japanese?that was about it?but it operated in the black.
 Seventeen years after the first railway was opened, a rail line between Shimbashi and Kobe was opened, and by the late 1890s a rail network of 7000 kilometers covered Japan. We can detect an urgency in the spread of the railways.
 Through color brocade prints of the steam locomotive, we offer you a glimpse of social conditions in the time of Westernization following the change from the Edo to the Meiji Period.
Museum Talk
Saturday, August 10, 2013 1:30 p.m. (presented by this museum's curator)