Scheduled Exhibition Mount Fuji as Depicted in Ukiyo-e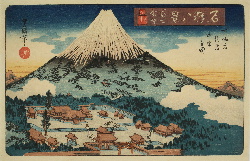 Exhibit Period
Friday, July 5 - Sunday, August 4, 2013
Exhibit Times
9:30 a.m. - 5:00 p.m.
(last admissions at 4:30 p.m.)
Organized by
The Nakagawa-machi Bato Hiroshige Museum of Art
Museum closed
July , 8, 16, 22, 29
Admission Fee
Adults: 500 (450) yen High School, College Students: 300 (270) yen * Fees in parentheses are group rates for 20 or more visitors. * Free admission for visitors 70 years old and older, and children junior high school aged and younger. * Half price for visitors with a disability certificate, and half price for one accompanying caregiver.
Overview
At the UNESCO-sponsored World Heritage Committee meeting held in Phnom Penh in Cambodia on June 22, 2013, "Mount Fuji" (in Yamanashi and Shizuoka Prefecture) and "Miho no Matsubara" were registered as World Cultural Heritage Sites.
 As Japan's most beautiful high mountain, the singular conical shape of Mt. Fuji is widely known not only in Japan, but overseas. The beauty of the scenery-which changes depending on the season you are viewing it, the time of day, and your viewing angle-has not changed since the dawn of history.
 For more than a thousand years, Mount Fuji has been taken up as a subject matter in beginning with the Manyoshu (The Anthology of Myriad Leaves), the Taketori Monogatari (The Tale of the Bamboo-Cutter), and a variety of other waka poems, tales, and legends as well as pictures. And from ancient times, it has also been embraced as an object of veneration in mountain worship. When we come to the Pax Tokugawa of the Edo Period, Mount Fuji became an object of affection because it could be seen from anywhere in Edo, and was depicted in ukiyo-e art in Katsushika Hokusai's "Thirty Six Views of Mount Fuji" and "One Hundred Scenes of Mount Fuji," Utagawa Hiroshige's two works similarly entitled "Thirty Six Views of Mount Fuji," and other works. Various places across Japan from which Mount Fuji can be seen are given names such as Fujimi Zaka (Fuji View Slope), Fujimi Machi (Fuji View Town), Fujimi Dai (Fuji View Plateau), and Mount Fuji can be seen in the gaps between clusters of high rise buildings.
 At this exhibition, see how Japanese ukiyo-e artists active during the Edo Period captured the Japanese' beloved Mount Fuji. We present World Cultural Heritage Site Mount Fuji as depicted in works between the middle of the Edo Period and the beginning of the Showa Period. We hope you will take the opportunity to discover a new fascination for the venerable Mount Fuji.
Museum Talk
Saturday, July 6, 2013 1:30 p.m. (presented by this museum's curator)