Special Spring Exhibition / The 160th Anniversary of Vincent van Gogh's Birth The Courtesans that Van Gogh Loved: The Artwork of Keisai Eisen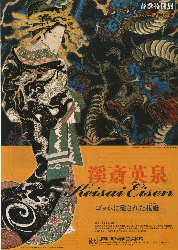 Exhibit Period
First Half: Saturday, April 20, 2013 - Sunday, May 26, 2013
Second Half: Friday, May 31, 2013 - Sunday, June 30, 2013
Exhibit Times
9:30 a.m. - 5:00 p.m.
(last admissions at 4:30 p.m.)
Organized by
The Nakagawa-machi Bato Hiroshige Museum of Art
Museum closed
During the Exhibit Change (May 27-May 30), Mondays (open April 29 and May 6), and May 7
Admission Fee
Adults: 700 (630) yen High School, College Students: 400 (360) yen * Fees in parentheses are group rates for 20 or more visitors. * Free admission for visitors 70 years old and older, and children junior high school aged and younger. * Half price for visitors with a disability certificate, and half price for one accompanying caregiver.
Overview
The artist Keisai Eisen (1791-1848) was active in the last days of the Tokugawa Shogunate when Edo culture reached the peak of its maturity.
Eisen, who made the figure print his specialty, at first modeled himself after his master, Kikukawa Eizan, by depicting the ephemeral woman. However, he afterwards established his own figure print style, which has been referred to as being decadently voluptuous. Those distinctive female figures garnered great favor with the people of the time, and he became the leading figure print artist of the mid-Bunsei (1819-30) era.
Post-impressionist artist Vincent Van Gogh (1853-1890) was one of the people enchanted by Eisen's figure prints. When he saw Eisen's Courtesan in a Dragon and Cloud Uchikake Robe adorning the cover of the journal "Paris Illustre," Van Gogh was greatly impressed, and repeatedly reproduced the figure of the courtesan in oil paintings.
We are displaying the print that mesmerized Van Gogh, Courtesan in a Dragon and Cloud Uchikake Robe, the journal, figure prints, paintings, prints of warriors and military subjects, and illustrated books - approximately 150 items split between the first and second halves of this exhibition. Please enjoy the glamorous and powerful works by Eisen that were cause by his stormy life and the social conditions at the end of the Tokugawa Shogunate.
Museum Talk
First Half: Saturday, April 20, 2013 at 1:30 p.m.
Second Half: Saturday, June 1, 2013 at:30 p.m.
Presented by museum curators
Lecture
Commemorative Lecture
Saturday, May 18 at 1:30 p.m.
Presented by Oikawa Shigeru
(Professor, Japan Women's University)
Lecture Title: "Japonisme and Ukiyo-e"
Sponsor
In Cooperation with
The Chiba City Museum of Art
Supported by
The Shimotsuke Shimbun, NHK Utsunomiya Broadcast Center, The Sankei Shimbun Utsunomiya Bureau, The Asahi Shimbun Utsunomiya Bureau, The Mainichi Shimbun Utsunomiya Bureau, The Yomiuri Shimbun Utsunomiya Bureau, Tochigi Television Inc., FM Tochigi Inc., Tochigi Hoso Inc.