Autumn Special Exhibition Castles and Warlords, The Men Who Battled for Military Supremacy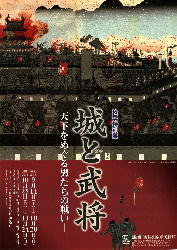 Exhibit Period
First Half: Saturday, September 14 - Sunday, October 20, 2013
Second Half: Friday, October 25 - Sunday, November 24, 2013
Exhibit Times
9:30 a.m. - 5:00 p.m.
(last admissions at 4:30 p.m.)
Organized by
The Nakagawa-machi Bato Hiroshige Museum of Art
Museum closed
While exhibit is changed (October 21 - 24), September 17, 24, 30, October 7, 15, 28, November 5, 11, 18
Admission Fee
Adults: 700 (630) yen High School, College Students: 400 (360) yen * Fees in parentheses are group rates for 20 or more visitors. * Free admission for visitors 70 years old and older, and children junior high school aged and younger. * Half price for visitors with a disability certificate, and half price for one accompanying caregiver.
Overview
From the end of the 15th Century through until the early Edo Period, the men who aspired to rule supreme over a unified Japan were involved in heated battles. It was a time when retainers supplanted their lords, and men betrayed the lords they had served for many years, overthrowing them. The richly tumultuous lives of these warlords have been taken up in numerous television dramas, movies and novels, and continue to fascinate us even now.
 When the war-torn years came to a close, the people of the Edo Period enjoyed the peace, but the lifestyles and battle bravery of the warlords of the Warring States Period were a subject of great longing even to them. Ukiyo-e depicted the most popular of these-including feudal warlords Takeda Shingen and Uesugi Kenshin, and the war between them, especially the battles of Kawanakajima, Okehazama and Shizugatake.
 Symbolic of the warriors' battles was the castle, which was depicted in a great many ukiyo-e. In the Edo Period, scenes of fortifications and castle sieges-even the tranquil sight of a secluded castle building in a serene Edo Period landscape may have seduced the people of Edo to dream of the past.
 In this exhibit, we will look through the eyes of ukiyo-e to see how the events of unification unfolded, and view the castle as it beautifully towered above this stormy era. In conjunction with this exhibit, we will also introduce Nakagawa Town in the feudal era, when the area was under the rule of Lord Satake.
 We hope you will enjoy firsthand their fascination with warlords and their castles, and get a feel for the image that people of the Edo and Meiji Periods held of the feudal era.
Museum Talk
First Half: Saturday, September 14 @ 1:30 p.m.
Second Half: Saturday, October 26 @ 1:30 p.m.
Presented by museum curators