Scheduled Exhibition The Aoki Collection -The World of Chushingura-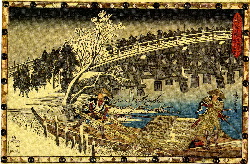 Exhibit Period
Saturday, December 3, 2011 - Sunday, January 15, 2012
Exhibit Times
9:30 a.m. - 5:00 p.m.
(last admissions at 4:30 p.m.)
Organized by
The Nakagawa-machi Bato Hiroshige Museum of Art
Museum closed
December 5, 12, 19, 26, 27, 28, 29, 30, 31, January 1, 2, 10
Admission Fee
Adults: 500 (450) yen High School, College Students: 300 (270) yen * Fees in parentheses are group rates for 20 or more visitors. * Free admission for visitors 70 years old and older, and children junior high school aged and younger. * Half price for visitors with a disability certificate, and half price for one accompanying caregiver.
Overview
The Aoki Collection contains many works related to the Chushingura story. In the Edo period Chushingura was called a dokujinto (a panacea) because performances of it always could be anticipated to go well and draw an audience.
Known by everyone who is Japanese, the Ako Incident had its beginnings on March 14, 1701. The head of the Ako clan, Asano Takumi-no-kami Naganori, drew his sword on Kira Kōzuke-no-suke Yoshinaka in the hallway of Honmaru Palace at Edo Castle. Asano committed ritual suicide the same day, his household was disbanded and his lands were confiscated, while no condemnation of Kira was made in the judgment. Dissatisfied with the ruling, on December 14 of the following year forty-seven of Asano's former samurai raided Kira's compound and avenged their lord, achieving a long-anticipated goal.
People living in the great peace of the Genroku period were excited by the story of the samurai avenging their lord in Chushingura (the Treasury of the Local Retainers), as it was first called in Kanadehon Chushingura, a ningyo joruri puppet play performed at the Takemoto-za theater in Osaka. It is said that the name "Chushingura" was newly coined, and the 47 characters of "hiragana" [referenced by "Kanadehon" in the title] were an allusion to the 47 men of the Ako clan who avenged their lord.
Following this, "Chushingura" was performed in the kabuki theater, and became one of its most popular programs. Today, Chushingura is dealt with as subject matter on television, and in movies and novels.
In this exhibit, we focus our attention on "Chushingura," one of the most frequently depicted ukiyo-e subjects. You will be able to see how people of that time appreciated this story, and can get to know the various artists who depicted it.
Museum Talk
Saturday, December 3, 2011
Starts at 1:30 p.m.
Presented by a Hiroshige Museum curator