Scheduled Exhibition Works of Tokutomi Soho and Aoki Tosaku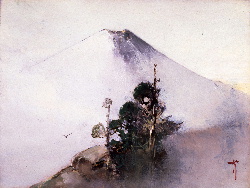 Exhibit Period
Tuesday, January 24 - Sunday, March 4, 2012
Exhibit Times
9:30 a.m. - 5:00 p.m.
(last admissions at 4:30 p.m.)
Organized by
The Nakagawa-machi Bato Hiroshige Museum of Art
Museum closed
Mondays
Admission Fee
Adults: 500 (450) yen High School, College Students: 300 (270) yen ※Fees in parentheses for groups of 20 or more ※Visitors age 70 and above, and junior high school age and below admitted for free Visitors with a disability certificate, and one accompanying caregiver admitted for half-price.
Overview
Tokutomi Soho (1863-1957) was born in Higo Province, the firstborn son of Tokutomi Kazutaka and his wife Hisako. Based on the acclaim of "The Future of Japan," published in Kumamoto in 1886, he moved his family to Tokyo, and in 1887 began publishing "The National Citizen's Friend" as a nationwide general interest magazine. Because he covered current affairs and literature, he was in contact with many cultural figures. Following this, he continued to consider how Japan should proceed on the road ahead, at one point in time becoming a member of the House of Lords. However, when Katsura Taro - who recommended Soho as a member - died, Soho left the world of politics, and devoted himself to the newspaper venture "Modern Japanese National Citizen History."
Aoki Tosaku (1870-1946) remembers the deep impression made when he read the inaugural issue of "The National Citizen's Friend," and went to visit Soho. Thereafter, Tosaku looked up to Soho as a mentor by supporting his work, and Soho looked on Tosaku as a good friend, exerting a subtle influence on Tosaku's art collecting. Their relationship lasted nearly 60 years, until Tosaku's death.
Through his calligraphy and resource materials from people who knew him, we will introduce Tokutomi Soho - the journalist, the man of culture and the politician who pulled Japan forward, and his relationship with Aoki Tosaku, who supported his activities.
Museum Talk
Presented by a Hiroshige Museum Curator
Saturday, January 28, 2012
Talk begins at 1:30 p.m.  ※payment of exhibit entrance fee required