Gambaro, Tochigi! (Hang in There, Tochigi!) Autumn Special Exhibition Kawase Hasui-The Journey from Tochigi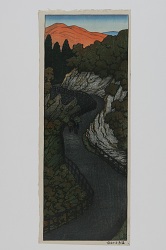 Exhibit Period
First Half:September 16 (Fri) - October 16 (Sun) 2011
Second Half: October 21 (Fri) - November 27 (Sun), 2011
Exhibit Times
9:30 a.m. - 5:00 p.m.
(last admissions at 4:30 p.m.)
Organized by
Nakagawa-machi Bato Hiroshige Museum of Art
Museum closed
September 20, 26; October 3, 11; October 17-20 (Display Change), 24, 31; November 7, 14, 21
Admission Fee
Adults: 700 (630) yen High School, College Students: 400 (360) yen * Fees in parentheses are group rates for 20 or more visitors. * Free admission for visitors 70 years old and older, and children junior high school aged and younger. * Half price for visitors with a disability certificate, and half price for one accompanying caregiver.
Overview
Kawase Hasui (1883-1957) is the artist who best represents the Taisho Shin Hanga Movement. Hasui was born in the Shiba district of Tokyo, but due to frail health he spent his early childhood years with his aunt in Nasu Shiobara in Tochigi Prefecture. He loved pictures from the time he was a child, and at the age of 27 he became a student of Kaburaki Kiyokata. In 1918, he saw the woodblock print series Eight Views of Omi Province by fellow Kiyokata student Ito Shinsui, and this inspired him to tell the publisher of the series, Watanabe Shozaburo, that he wanted to create woodblock prints, too.
At that time, Shozaburo was aspiring to produce a new kind woodblock print, and was looking for artists. He was trying to create woodblock prints at his print house utilizing the same kind of drawing, engraving and printing collaboration as in the Edo Period, while pursuing an even higher level of artistry. He gained the participation of many artists and artisans in what would later come to be called the Taisho Shin Hanga (Taisho Era New Woodblock Print) Movement.
In 1918, under Shozaburo, Hasui introduced a three-part work - Okane Road, Shiobara; Down the Fields of Shiobara; and Shiogama in Shiobara. He probably first wanted to draw Nasu Shiobara's beautiful mountain scenery because he had grown up looking at it as a child. Once the Shiobara triptych gathered acclaim, Hasui became the central artist supporting the Taisho Shin Hanga Movement, and throughout his life, he continued to draw landscapes from across Japan.
We survey the artistry of Hasui, who has been nicknamed "The Traveling Woodblock Print Artist" and "The Showa Period's Hiroshige." In conjunction with the landscapes of Hasui's beloved Tochigi which this exhibition is focusing on, we are also introducing his doll prints and figure prints. Hasui's gorgeous depictions of Japanese landscapes seem to draw out nostalgic memories, capturing the hearts of all who see them.
Lecture
Anniversary Lecture
Sunday, October 2 @ 1:30 p.m.
Presented by Watanabe Shoichiro (President, S. Watanabe Color Company; also, appraiser for the popular television program Kaiun! Nan Demo Kantei Dan [It's Your Lucky Day! The We'll Appraise Anything Brigade])
Lecture Title: The Watanabe Woodblock Print House and the Changing Tides of Japanese Modern Woodblock Print Art