Scheduled Exhibition Back from the Dead: Ghosts and Monsters of Edo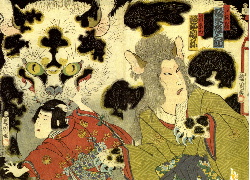 Exhibit Period
August 5 (Fri) - September 11 (Sun), 2011
Exhibit Times
9:30 a.m. - 5:00 p.m.
(last admissions at 4:30 p.m.)
Organized by
The Nakagawa-machi Bato Hiroshige Museum of Art
Museum closed
August 8 (Mon), 22 (Mon), 29 (Mon); September 5 (Mon)
Admission Fee
Adults: 500 (450) yen High School, College Students: 300 (270) yen * Fees in parentheses are group rates for 20 or more visitors. * Free admission for visitors 70 years old and older, and children junior high school aged and younger. * Half price for visitors with a disability certificate, and half price for one accompanying caregiver.
Overview
Ghosts and monsters were a familiar presence to people in the Edo period, whose nights were spent illuminated only by the dim light of paper lanterns. Monsters were believed to gather late at night and wander around town, so people sensed them everywhere in the darkness.
All kinds of information about ghosts and monsters was popularly circulated, and their figures were depicted in ukiyo-e prints and picture books. Kabuki and Rakugo also deal with famous ghost stories; "The Tokaido Yotsuya Ghost Story","The Dish Mansion at Bancho", "Peony Lantern" and others became major hits. Filled with curiosity, the people of Edo would have been on the edge of their seats as they enjoyed these Kabuki and Rakugo stories.
This exhibition introduces the various ghosts and monsters through picture scrolls, ukiyo-e prints and picture books of the Edo and Meiji periods. Not only such monsters as O-kiku, O-iwa, Kappa, Nurarihyon, and Rokurokubi who are familiar to people today, but a full contingent of creepy and humorous supernatural creatures show up in the exhibition to make your first acquaintance. Step into the museum, and you, too, may get caught up in the mysterious world of Edo's monsters.
Museum Talk
Presented by Hiroko Nagai, the curator of the museum,
on August 6, 2011 (Sat). Starts at 1:30 p.m.