Scheduled Exhibition One Hundred Aspects of the Moon -120th Anniversary of the Death of Taiso Yoshitoshi-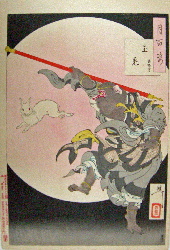 Exhibit Period
Friday, July 1, 2011 - Sunday, July 31, 2011
Exhibit Times
9:30 a.m. - 5:00 p.m.
(last admissions at 4:30 p.m.)
Organized by
Nakagawa-machi Bato Hiroshige Museum of Art
Museum closed
July 'S, 11, 19, 25
Admission Fee
Adults: 500 (450) yen High School, College Students: 300 (270) yen * Fees in parentheses are group rates for 20 or more visitors. * Free admission for visitors 70 years old and older, and children junior high school aged and younger. * Half price for visitors with a disability certificate, and half price for one accompanying caregiver.
Overview
Taiso Yoshitoshi (1839-92), whose real family name was Yoshioka, was usually called Yonejiro. His was a merchant family, carrying out their business in the Shimbashi Maruyacho district of Tokyo. Yoshitoshi aspired to be an artist, entering Utagawa Kuniyoshi's school at the age of 11. Four years later, he was drawing the illustrations for the printing blocks, a sign of how soon he had mastered artistic skills. He followed his teacher's style, being particularly good at depictions of actors, but in 1861 Kuniyoshi passed away. Six years later, with the onset of the Meiji Era, it was as if a dam had broken and Western culture flooded Japan. Thereafter, ukiyo-e fell into decline, although Yoshitoshi's popularity remained exceptionally high. In 1872, the fifth year of the Meiji Era, he developed a nervous disorder, and for a time was unable to work, but recovered the following year. However, he remained troubled by this illness the rest of his life. When he had a respite from the illness, he put his hand to full-color artwork for newspapers, and the works he created were well received for their detailed composition and clarity of color. gOne Hundred Aspects of the Moonh was created in a seven to eight year period between 1885 and 1892, a set containing one hundred prints in all. The publisher was Akiyama Bueimon, who carried out the woodblock engraving and coloring with an attention to detail. The subject matter was selected from classical Chinese and Japanese stories, the moon as the theme. Although he consulted reference books for his compositions, in Yoshitoshi's style we can almost always detect an originality that makes it difficult to realize there even were any sources referred to.
To commemorate the 120th anniversary of Taiso Yoshitoshi's death, we are presenting 62 works from the tour de force of Yoshitoshi's final years, the monumental print series gOne Hundred Aspects of the Moon.h It our hope you will find great satisfaction in the works of an artist who has been called gthe last ukiyo-e artist.
Museum Talk
Presented by a Hiroshige Museum Curator
Saturday, July 2, beginning at 1:30 p.m.