10th Anniversary of the Nakagawa-machi Bato Hiroshige Museum of Art 5th Anniversary of Municipal Consolidation Regularly Scheduled Exhibition The Beginnings of the Modern Woodblock Print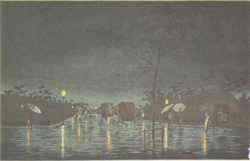 Exhibit Period
June 25 (Fri)- July 25 (Sun), 2010
Exhibit Times
9:30 a.m. - 5:00 p.m.
(last admissions at 4:30 p.m.)
Organized by
The Nakagawa-machi Bato Hiroshige Museum of Art
Museum closed
June 28 (Mon), July 5 (Mon), 12 (Mon), 20 (Tues)
Admission Fee
Adults: 500 (450) yen; High School, College Students: 300 (270) yen; * Fees in parentheses are group rates for 20 or more visitors * Free admission for visitors aged over 70 years, elementary and junior high school students, and preschoolers * Half price for visitors with a physical disability certificate, and half price for one accompanying caregiver
Overview
When ukiyo-e flowered in the Edo Period, it became widely popular, producing many new ukiyo-e artists. However, with the coming of the Meiji Era, printing and photography equipment was imported from western Europe, and ukiyo-e printing began its decline. In the same time period in western Europe, Japonism was taking the continent by storm, impacting art and culture; at the center of this was ukiyo-e. Large quantities of ukiyo-e works were exported to western Europe, leading to development of many new collectors. However, by the Taisho period in Japan ukiyo-e artists all but vanished, and the printers and engravers only tenuously carried on their work. Having received the high praise of western Europe, in order to bring ukiyo-e back to life once again the publisher Watanabe Shozaburo brought together engravers, printers and artists-the same triad that was involved in the ukiyo-e woodblock print production process-to produce works, establishing the Taisho era New Print Movement. Kawase Hasui depicted the beauty of the Japanese landscape with rich lyricism, Ito Shinsui was a master of the figure print, for actor prints it was Natori Shunsen, while Yamamura Koka used a distinctive touch to create his works.
In this exhibit we present the works of Kawase Hasui, Ito Shunsui, Natori Shunsen, Yamamura Koka and others who were active in the formative period of the New Print. We hope you will find satisfaction in the world of the New Print as it continued the ukiyo-e tradition.
Museum Talk
Presented by a Nakagawa-machi Bato Hiroshige Museum of Art curator.
June 26 (Sat), 2010
Start at 1:30 p.m.

Payment of museum admission fee is required.