10th Anniversary of the Nakagawa-machi Bato Hiroshige Museum of Art 5th Anniversary of Municipal Consolidation Spring Special Exhibition MARC CHAGALL -MESSAGES OF LOVE-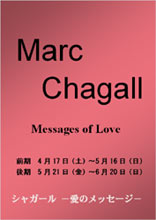 Exhibit Period
Part 1: April 17 (Sat)- May 16 (Sun), 2010
Part 2: May 21(Fri)- June 20 (Sun), 2010
Exhibit Times
9:30 a.m. - 5:00 p.m.
(last admissions at 4:30 p.m.)
Organized by
The Nakagawa-machi Bato Hiroshige Museum of Art
Museum closed
April 19 (Mon), 26 (Mon), May 6 (Thu), 10 (Mon), 17 (Mon)-20 (Thu), 24 (Mon), 31 (Mon), June 7 (Mon), 14 (Mon)
Admission Fee
Adults: 700 (630) yen High School, College Students: 400 (360) yen * Fees in parentheses are group rates for 20 or more visitors * Free admission for visitors aged over 70 years, elementary and junior high school students, and preschoolers * Half price for visitors with a physical disability certificate, and half price for one accompanying caregiver
Overview
Marc Chagall (1887-1985), one of the leading artists of the 20th century, was born into a Jewish family in Vitebsk, a small city in Russia. He stayed in Paris for 5 years after he studied European modern art in Petersburg. During his stay in Paris, he lived in "La Ruche", and he developed personal relationships with avant-garde poets such as Blaise Cendrars and Guillaume Apollinaire, learning free color expression and acquiring new art styles like cubism.
After that, he returned to his hometown and married Bella Rosenfeld. He loved her throughout his lifetime, and it is said that the love inspired his art.
Chagall lived through two World Wars. He defected to the United States to escape Nazi persecution when World War II broke out in 1941. However, he never gave into the hardship, and remained proud to be a Jew. His works represent his feelings towards his hometown, and his adoration for Jewish tradition.
This exhibition shows mainly the original illustrations for picture books in the collection of the Museum of Art, Kochi. From these works you will discover Chagall's sincere search for the essence of humanity, including love and sorrow, as well as fantastic beauty.
Museum Talk
Presented by Koji Ariki, curator of the Utsunomiya Museum of Art
Part 1: May 1 (Sat), 2010
Part 2: June 5 (Sat), 2010
Start at 1:30 p.m.
Payment of museum admission fee is required.