10th Anniversary of the Nakagawa-machi Bato Hiroshige Museum of Art 5th Anniversary of Municipal Consolidation Summer Special Exhibition 250th Anniversary of the Birth of Katsushika Hokusai -Thirty-six Views of Mt. Fuji and Landscape Prints-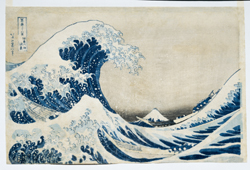 Exhibit Period
July 30 (Fri)- August 29 (Sun), 2010
Exhibit Times
9:30 a.m. - 5:00 p.m.
(last admissions at 4:30 p.m.)
Organized by
The Nakagawa-machi Bato Hiroshige Museum of Art
Museum closed
August 2 (Mon), 9 (Mon), 16 (Mon), 23 (Mon)
Admission Fee
Adults: 700 (630) yen High School, College Students: 400 (360) yen * Fees in parentheses are group rates for 20 or more visitors * Free admission for visitors aged over 70 years, elementary and junior high school students, and preschoolers * Half price for visitors with a physical disability certificate, and half price for one accompanying caregiver
Overview
Southern Breeze, Clear Dawn, which is known as the 'Red Fuji'; Beneath the Wave off Kanagawa, where a giant wave roars; and Thunderstorm Beneath the Summit, in which a jet black Mount Fuji towers over the scene-it would not be an overstatement to say that these three prints are the most famous ukiyo-e in the world. The "Thirty-six Views of Mt. Fuji" series, which includes all three prints, was drawn by ukiyo-e artist Katsushika Hokusai (1760-1849) around the beginning of the Tempo era (1830-44).
Before Hokusai produced the "Thirty-six Views of Mt. Fuji", he learned perspective and shadow methods from Western prints and paintings, and made woodblock landscape prints which resembled Western copper prints. But in the "Thirty-six Views of Mount Fuji," we can see Hokusai weave the passing of the seasons and time into his pictures, and establish a landscape print style based on his own mental imagery.
This exhibition presents the entire Thirty-six Views of Mount Fuji print series-the representative example of Hokusai's landscape work-together with the three-volume "One Hundred Views of Mount Fuji," illustrated books dealing with Mount Fuji, and the works Hokusai made in the first half of the Tempo era when he concentrated on landscape prints. We hope you will discover new charms in Hokusai through his many landscape prints featuring Mount Fuji and Japan's great scenery.
Museum Talk
Presented by Hiroko Nagai, curator of the Nakagawa-machi Bato Hiroshige Museum of Art.
July 31 (Sat), 2010
Start at 1:30 p.m.
Payment of museum admission fee is required.