Scheduled Exhibition The World of Chushingura (The Treasury of Loyal Retainers) in Ukiyo-e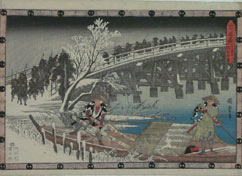 Exhibit Period
November 29 (Sat), 2008 to January 12 (Mon), 2009
Exhibit Times
9:30 a.m. - 5:00 p.m.
(last admissions at 4:30 p.m.)
Organized by
The Nakagawa-machi Bato Hiroshige Museum of Art
Museum closed
December 1 (Mon); 8 (Mon); 15 (Mon) 22 (Mon); 24 (Wed); 27 (Sat) to January 2 (Fri); 5 (Mon)
Admission Fee
Adults 500 (450) yen; High School, College Students: 300 (270) yen; Elementary, Junior High School Students: 100 (90) yen * Fees in parentheses are group rates for 20 or more visitors * Free admission for visitors aged over 70 years and preschoolers * Half price for visitors with the physical disability certificate, and for one accompanying caregiver
Overview
"Kanadehon Chushingura" is a masterpiece in Kabuki. It tells of the patient but sure revenge 47 newly masterless samurai (ronin) take on Lord Kira, whom they hold responsible for their master's death. The highlight of the story is the raid on Kira's mansion by the 47 ronin. By a curious coincidence, the first performance of "Kanadehon Chushingura" in the joruri puppet theater was 47 years after this affair in the Ako Domain, the actual raid in 1748.
"Kanadehon Chushingura" is not just a story of loyalty of the retainers and the code of the samurai. It includes period flavor, human feelings, both comedy and tragedy, so that the play attracts a large audience whenever it is put on the stage. Even today, many dramas or films inspired by "Chushingura" are produced, in addition to the classical performances such as kabuki. It's especially popular to broadcast the "Chushingura" drama during the New Year's holidays.
The general public in the Edo period was fond of "Kanadehon Chushingura," so of course numerous ukiyo-e of "Chushingura" were produced. The Aoki Collection at the Nakagawa-machi Bato Hiroshige Museum of Art includes several ukiyo-e series of "Chushingura". Enjoy the ever-changing variety in the ways the subject of "Chushingura" is represented, and tastes are expressed in composition .This exhibition introduces the world of "Chushingura" by the Utagawa School ukiyo-e artists such as Hiroshige, Kunisada, and Kuniyoshi.
Museum Talk
Presented by the curator of the museum on December 6, 2008 (Sat).
Start at 1:30 p.m.

Payment of museum admission fee is required.