Scheduled Exhibition Shin-hanga Landscapes – Beautiful Japanese Scenery from the "New Print"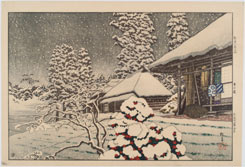 Exhibit Period
January 17 (Sat), 2009 to February 22 (Sun), 2009
Exhibit Times
9:30 a.m. - 5:00 p.m.
(last admissions at 4:30 p.m.)
Organized by
The Nakagawa-machi Bato Hiroshige Museum of Art
Museum closed
January 19 (Mon), 26 (Mon), February 2 (Mon), 9 (Mon), 12(Thu), 16 (Mon)
Admission Fee
Adults 500 (450) yen; High School, College Students: 300 (270) yen; Elementary, Junior High School Students: 100 (90) yen * Fees in parentheses are rates for groups of 20 or more visitors * Free admission for visitors age 70 years and over and preschoolers * Half price for visitors with the physical disability certificate, and for one accompanying caregiver
Overview
Ukiyo-e style woodblock prints, which flourished in the Edo Period, fell into decline in the Meiji Period once cameras, lithography and other print methods were brought from Europe and the United States, and became more popular. However, in the Taisho Period there was a renewed appreciation of the traditional woodblock print, with the publisher Watanabe Shozaburo proposing a new genre: Shin-hanga, or "New Prints."

  Like ukiyo-e prints, Shin-hanga were collaboratively made by artists, woodblock engravers and printers under the direction of publishers, and dealt with the traditional subjects: bijin (beautiful women), yakusha (Kabuki actors), and fukei (landscapes). Shin-hanga sought to advance artistic forms, artists being appointed from among those who were born in or after the Meiji Period such as Hashiguchi Goyo, Ito Shinsui, Kawase Hasui, and Takahashi Shotei.

  This exhibition presents beautiful Japanese landscape prints selected from the Shin-hanga genre. We hope you will enjoy the different flavor these landscape prints exhibit in contrast to the masterworks of Hokusai and Hiroshige.
Museum Talk
Presented by a museum curator on January 31, 2009 (Sat).
Start at 1:30 p.m.

Payment of museum admission fee is required..