Special Autumn Exhibition "Changes in the Ukiyo-e Landscape Print"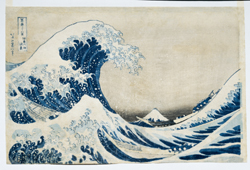 Exhibit Period
Part One: September 20 (Sat) - October 19 (Sun)
Part Two: October 24 (Fri) - November 24 (Mon)
Exhibit Times
9:30 a.m. - 5:00 p.m.
(last admissions at 4:30 p.m.)
Organized by
The Nakagawa-machi Bato Hiroshige Museum of Art and The Shimotsuke News Papers
Museum closed
September 22, 24, 29, October 6, 14, 20-23, 27, November 4, 10, 17
Admission Fee
Adults 700 (630) yen; High School, College Students: 400 (360) yen; Elementary, Junior High School Students: 100 (90) yen * Fees in parentheses are group rates for 20 or more visitors * Free admission for visitors aged over 70 years and preschoolers * Half price for visitors with the physical disability certificate, and for one accompanying caregiver
Overview
Landscape prints had developed in Edo since the mid-17th century, following the traditional landscape painting style of the Kano school and the Yamato-e school. However, it took quite some time for landscape prints to be accepted in the ukiyo-e print market in the same way that prints of famous actors and figure prints were.

In the mid-Edo era, the common people experienced a heretofore unknown affluence, and started to going out for sightseeing and to visit shrines and temples. Ukiyo-e publishers, not to miss the opportunity, published ukiyo-e landscape prints as souvenirs and for appreciation. Among these, Hokusai's Thirty-six Views of Mount Fuji and Hiroshige's Fifty-three Stations of the Tokaido achieved great popularity, creating the momentum for landscape prints to establish a position in the ukiyo-e market.

This exhibition presents landscape ukiyo-e prints from the Tenna period (1681-1684) to the end of the Edo era, tracing the genre's history. We hope you will enjoy the variety of landscapes depicted by representative ukiyo-e masters of each period.
Museum Talk
September 27 (Sat), November 1 (Sat)
Lecture
Commemorative Lecture
October 5 (Sun), November 9 (Sun)