Scheduled Exhibition One Hundred Aspects of the Moon – Taiso Yoshitoshi and His Era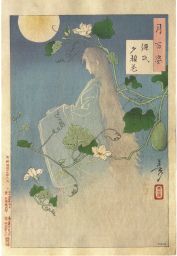 Exhibit Period
First Half: Saturday, July 2 - Sunday, July 31, 2016
Second Half: Friday, August 5 - Sunday, September 11, 2016
Exhibit Times
9:30 a.m. - 5:00 p.m.
(last admissions at 4:30 p.m.)
Organized by
Nakagawa-machi Bato Hiroshige Museum of Art
Museum closed
Mondays (open when Monday is a national holiday), the day following national holidays
Admission Fee
Adults: 500 (450) yen High School, College Students: 300 (270) yen * Fees in parentheses are group rates for 20 or more visitors * Free admission for visitors aged over 70 years, elementary and junior high school students, and preschoolers * Half price for visitors with a physical disability certificate, and half price for one accompanying caregiver
Overview
One Hundred Aspects of the Moon is the masterpiece which Taiso Yoshitoshi (1839-92), a representative artist in the world of Meiji Era ukiyo-e, produced in his later years.
 Yoshitoshi was born into a merchant family from Maruyabashi in the Shimbashi district of Edo. At age 11, aspiring to be an artist, he became a pupil of Utagawa Kuniyoshi. Continuing in the artistic style of his master, Yoshitoshi developed his skill at warrior prints, and matured to become one of the most talented artists in the Utagawa school.
 Yoshitoshi's popularity did not even let up with the coming of the Meiji Restoration; he flourished by putting his energy into warrior prints, historical prints, and figure prints among others. However, in 1872 he developed a nervous disorder, and left his profession for a brief period. He recovered the following year, but ended up being troubled by this illness the rest of his life.
 One Hundred Aspects of the Moon was produced over seven years beginning in 1884, while he was in the midst of battling with the illness. This series of prints, one hundred in all, consists of narratives, legends and traditions which were connected with the moon in China and Japan. Reflecting Yoshitoshi's inner psychological world, they are deeply interesting. Produced with careful attention to a range of fine details, they also excel for their beauty and high level of technical prowess in printing and engraving.
 The One Hundred Aspects of the Moon exhibit will be presented into two halves, allowing us to introduce all of the works and the list of works.
 Through the many beautiful works which Yoshitoshi produced when his artistic skill was at the peak of its maturity, satiate yourself in the fantastic world of the moon.
Museum Talk
Talks (a guided tour of the exhibit) presented by our museum curators. (Museum admission fee required)
First Half: Saturday, Saturday, July 2, 2016 beginning at 1:30 p.m.
Second Half: Saturday, August 6, 2016 beginning at 1:30 p.m.
Talks (a guided tour of the exhibit)