Scheduled Exhibition The Photography of Yoshimura Kazutoshi- "The Magic Hour": When the World's Colors are Most Beautiful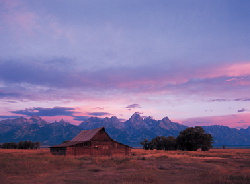 Exhibit Period
Friday, November 23 (a national holiday) - Sunday, January 20, 2013
Exhibit Times
9:30 a.m. - 5:00 p.m.
(last admissions at 4:30 p.m.)
Organized by
The Nakagawa-machi Bato Hiroshige Museum of Art
Museum closed
During the Year-end Holidays (December 25 - January 2), Mondays (except when Monday is a holiday), and on the day following a holiday (museum open on November 24)
Admission Fee
Adults: 500 (450) yen High School, College Students: 300 (270) yen * Fees in parentheses are group rates for 20 or more visitors. * Free admission for visitors 70 years old and older, and children junior high school aged and younger. * Half price for visitors with a disability certificate, and half price for one accompanying caregiver.
Overview
Just after the sun sets, the all-too-brief time when the most stars appear in the sky is called "The Magic Hour." The sky is awash in pastel pinks and purples, and due to the way light evenly circles the heavens, the full scenery on the ground steps up its presence; as time goes by, the most beautiful shapes emerge and transform. It is a secret, special slice of time on earth. We are introducing approximately 60 works that photographer Yoshimura Kazutoshi took in Europe, America and around the world, capturing "The Magic Hour."
Lecture
Lecture Presentations
Saturday, November 24, 2012 @ 1:30 p.m.
Saturday, January 19, 2013 @ 1:30 p.m.