Autumn Special Exhibition Hiroshige and the Tokaido Highway – Featuring the Hoeido and Tate-e (vertical format) Editions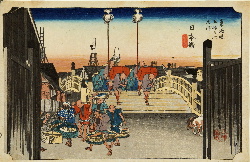 Exhibit Period
First Half: Friday, September 14 - Sunday, October 14, 2012
Second Half: Friday, October 19 - Sunday, November 18, 2012
Exhibit Times
9:30 a.m. - 5:00 p.m.
(last admissions at 4:30 p.m.)
Organized by
The Nakagawa-machi Bato Hiroshige Museum of Art
Museum closed
During exhibit change (October 15 - October 18), Mondays (except when Monday is a holiday), and on the day following a holiday (museum open on September 22)
Admission Fee
Adults: 700 (630) yen High School, College Students: 400 (360) yen * Fees in parentheses are group rates for 20 or more visitors. * Free admission for visitors 70 years old and older, and children junior high school aged and younger. * Half price for visitors with a disability certificate, and half price for one accompanying caregiver.
Overview
Under Takenouchi Magohachi, the Hoeido Publishing House brought plans for Utagawa Hiroshige's breakthrough work, the Fifty-three Stages of the Tokaido Highway (a.k.a. the Tokaido Highway Hoeido Edition) to Tsuruya Kiemon and the Tsuruki Publishing House in 1833, and publication began as a collaborative work.
 The work was a hit from the moment it went on sale, and would go on to make ukiyo-e history as an enduring bestseller. The work features changes - in the four seasons, sunny, snowy and rainy weather, morning, noon, evening and nighttime, extracting dynamism from the theretofore monotonous landscape print. Looking at the prints, people came to feel like they were travelling the Tokaido Highway without ever having left home.
 What followed is that not only Hiroshige, but a variety of ukiyo-e artists drew Tokaido Highway series. However, it was only Hiroshige's works that sold well. In his lifetime, Hiroshige created more than twenty Tokaido Highway series; the last one was published in 1855 - the Tate-e (vertical format) Tokaido Series. In this work the famous landmarks and historical sites at each post station are presented within a vertical composition, but the seasons and the weather play the same fundamental role in the composition as they did in the Tokaido Highway Hoeido Edition. By varying format size (oban, aiban, chuban, four-on-a-page, eight-on-a-page and koban formats) and content type (landscapes with kyoka poetry, figure-with-landscapes, vertical format, multiple subject, sugoroku game edition, etc.), Hiroshige expanded the number of his Tokaido series works.
 This time, we focus on introducing gThe Tokaido Highway Hoeido Editionh that is his first Tokaido Series work, and the gTokaido Highway Tate-e Editionh that concluded Hiroshige's lifetime of depicting the Tokaido Highway in more than 20 variations. While you are appreciating Hiroshige's Tokaido Highway series, please enjoy travel as it was done 180 years ago.
Museum Talk
Saturday, September 15, 2012 and Saturday, October 20, 2012
Starts at 1:30 p.m.
Presented by a Hiroshige Museum curator