Scheduled Exhibition World of Kunisada – An Ukiyo-e Painter Who Was More Popular Than Katsushika Hokusai-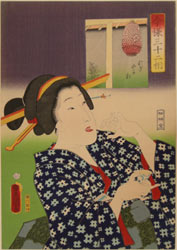 Exhibit Period
July 4 (Fri) to August 3 (Sun), 2008
Exhibit Times
9:30 a.m. - 5:00 p.m.
(last admissions at 4:30 p.m.)
Museum closed
July 7(Mon); 14 (Mon); 22(Tue); 28 (Mon), 2008
Admission Fee
Adults 500 (450) yen; High School, College Students: 300 (270) yen; Elementary, Junior High School Students: 100 (90) yen * Fees in parentheses are group rates for 20 or more visitors * Free admission for visitors aged over 70 years and preschoolers * Half price for visitors with the physical disability certificate, and for one accompanying caregiver
Overview
In the last years of the Edo period, the world of ukiyo-e entered its golden age, and ukiyo-e of various subjects such as actors, beauties, and landscapes were produced. Utagawa Kunisada (1786-1864), who became Toyokuni III later, was one of the most active ukiyo-e artists in this period.

Kunisada became a disciple of Toyokuni I when he was around 15-year-old. In the early stages, his artistic talent won recognition from the public, and then he led the world of ukiyo-e, mainly producing ukiyo-e of stylish beauties and innovative and unique portraits of kabuki actors.

Kunisada was even more popular than Hokusai. Kunisada went on to produce tens of thousands of ukiyo-e for over 60 years. Especially the popular novel "Nisemurasaki Inakagenji" illustrated by Kunisada became a huge hit, so that it affected a fashion on the street and kabuki. Also, he support his master Toyokuni, and made Utagawa school the biggest force in the ukiyo-e world.
This exhibition shows Kunisada's works produced mainly from Bunka (1804~18) to Tempo (1830~44) period, his most mature period.
Museum Talk
Presented by the curator of the museum on July 12, 2008 (Sat).
Start at 1:30 p.m.
Payment of museum admission fee is required.
Sponsor
Sponsored by
The Nakagawa-machi Bato Hiroshige Museum of Art