Scheduled Exhibition Getting to know Ukiyo-e: "What is Ukiyo-e?" Part 2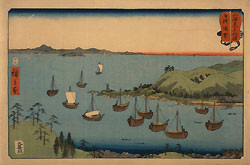 Exhibit Period
13 Jan (Thu) - 12 Feb (Sun) 2006
Exhibit Times
9:30 a.m. - 5:00 p.m.
(last admissions at 4:30 p.m.)
Museum closed
Monday every week
Admission Fee
Adult ----------------------------------500yen (450yen) High school/university student----------300 yen(270yen) Middle/elementary school student ------100yen (90yen) Senior citizens (aged 70 or over) --------FREE Persons with disability, plus one helper---HALF PRICE *(brackets indicate group rates for groups of 20 or more)
Overview
In 2004 the Hiroshige Museum held an exhibition introducing the basics of ukiyo-e, under the title "What is Ukiyo-e?"

Returning to this theme, "Part 2" once again introduces the basics of ukiyo-e in an accessible manner, answering the questions we are most frequently asked about ukiyo-e (often concerning the sizes of woodblock prints, the methods used to make them, and so on).

In addition to works by the museum's namesake, the famous artist Utagawa Hiroshige, this display also includes specialized equipment used in the production of ukiyo-e, such as printing blocks, carving tools and presses (which are still used for making reproductions of ukiyo-e according to authentic techniques).

It is hoped that deeper understanding will make ukiyo-e more accessible and allow a fresh, deeper appreciation of this most distinctive and prominent of Japanese arts.

Step into the realm of ukiyo-e. A new world awaits you.
Museum Talk
(by one of our curators; Japanese only)
21 Jan (Sat) 1:30pm
4 Feb (Sat) 1:30pm
11 Feb (Sat) 1:30pm