Scheduled Exhibition Highlights of the Aoki Collection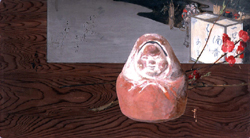 Exhibit Period
1 Dec (Thu) 2005 – 9 Jan (Mon) 2006
Exhibit Times
9:30 a.m. - 5:00 p.m.
(last admissions at 4:30 p.m.)
Museum closed
Monday every week (except 2nd & 9th Jan) New Year Holiday (26 Dec (Mon) – 1 Jan (Sun)) 4 Jan (Wed)
Admission Fee
Adult ----------------------------------500yen (450yen) High school/university student----------300 yen(270yen) Middle/elementary school student ------100yen (90yen) Senior citizens (aged 70 or over) --------FREE Persons with disability, plus one helper---HALF PRICE *(brackets indicate group rates for groups of 20 or more)
Overview
Every year the Hiroshige Museum holds an exhibition of highlights from its very own Aoki collection.

Until recently most of the works collected by Aoki Tosaku (1870-1946) during the late 19th and early 20th century remained under private ownership, inaccessible to the public.

The main focus of this museum, to which the collection has been donated, is the exhibition of late Edo and early Meiji period ukiyo-e works, which make up the major part of the collection.

However, the collection also includes such works as Japanese-style paintings from artists like Kubota Beisen, oil paintings from Kawamura Kiyo, calligraphy from the thinker Tokutomi Soho, and fine works of craftsmanship such as gold lacquer decoration. Making these works available to the public is also an important part of the museum's work.

This exhibition presents a broad cross-section of the Aoki collection, ranging from such well-known favourites as the paintings and woodblock prints of our namesake Utagawa Hiroshige, to a variety of rare and unusual works not normally seen.
Museum Talk
(by one of our curators; Japanese only)
3 Dec 2005 (Sat) 1:30pm
17 Dec 2005 (Sat) 1:30pm
7 Jan 2006 (Sat) 1:30pm