Scenes of Travel on the Tokaido Highway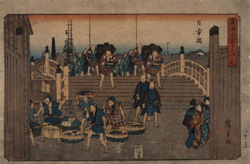 Exhibit Period
Saturday, January 3, 2004 - Sunday, February 1, 2004
Exhibit Times
9:30 a.m. - 5:00 p.m.
(last admissions at 4:30 p.m.)
Museum closed
Mondays, and the day following a holiday (except when this falls on a Saturday or Sunday)
Admission Fee
Adults: 500yen High School, College Students: 300yen Elementary, Junior High School Students: 100yen (Discounts are available for groups of 20 or more, the handicapped and the elderly)
Overview
The Tokaido Highway had long been a main route used by military groups, and also became known as a commercial road. However, once Tokugawa Ieyasu established his shogunate in Edo, the highway promptly saw improvements. In 1601, post stations for the Tenmasei government horseback relay system were established. In 1635, with the establishment of the Sankin Kotai policy requiring feudal lords to reside alternately in their provincial domains and in Edo, the post stations profited, and highway improvement advanced. Improvements in safety conditions on the highway led to an increase in the number of highway travelers from the general public, and various kinds of travel diaries and highway illustrations soon began to be published. In particular, "Tokaidotyu Hizakurige," Juppensha Ikkyu's comical tale of travel on the Tokaido Highway (published 1802-1809) brought the highway closer to the masses in Edo. The Tokaido became the theme of ukiyo-e artwork drawn by many ukiyo-e artists, including Kitagawa Utamaro, Katsushika Hokusai and Utagawa Hiroshige.
This exhibit takes Hiroshige's works in the Fifty-Three Stations of the Tokaido Highway (Gyosho Edition)-and matches them with photographs from the Taisho Period (1912-1926).
Museum Talk
Presented by one of our curators
Saturday, January 10, 2004; from 1:30 p.m.
Saturday, January 17, 2004; from 1:30 p.m.
Saturday, January 24, 2004; from 1:30 p.m.