From Edo to Tokyo-How Ukiyo-e Survived Until the Meiji Period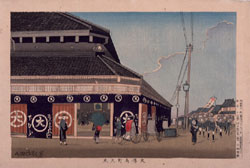 Exhibit Period
Saturday, November 29, 2003 – Tuesday, December 23, 2003
Exhibit Times
9:30 a.m. - 5:00 p.m.
(last admissions at 4:30 p.m.)
Museum closed
Mondays, and the day following a holiday (except when this falls on a Saturday or Sunday)
Admission Fee
Adults: 500yen High School, College Students: 300yen Elementary, Junior High School Students: 100yen (Discounts are available for groups of 20 or more, the handicapped and the elderly)
Overview
The technical skills of ukiyo-e's artists, printers and engravers reached their peak between the end of the Edo Period and the Meiji years. However, with the import of photography and lithography from foreign countries during the Meiji Period, ukiyo-e rapidly went into decline. In the Edo Period, the world of ukiyo-e was undaunted even by the shogunate's enforcements, but in the Meiji Period it was at the mercy of the imported culture of western Europe. Unable to cope with the turmoil of the age, many ukiyo-e artists gave up their careers, but some artists began to appear in completely new fields that made use of their skills, such as mass media illustration and kabuki art.
In this exhibit, we contrast ukiyo-e art from the end of the Edo Period and the Meiji Period, and introduce the many and various fields in which ukiyo-e artists gave full play to their talents, striving to cope however they could with the new age.
Museum Talk
Presented by one of our curators
Saturday, November 29, 2003; from 1:30 p.m
Saturday, December 6, 2003; from 1:30 p.m.
Saturday, December 20, 2003; from 1:30 p.m.