Ogata Gekko Exhibit – Flowers, Beautiful Women and Historical Romances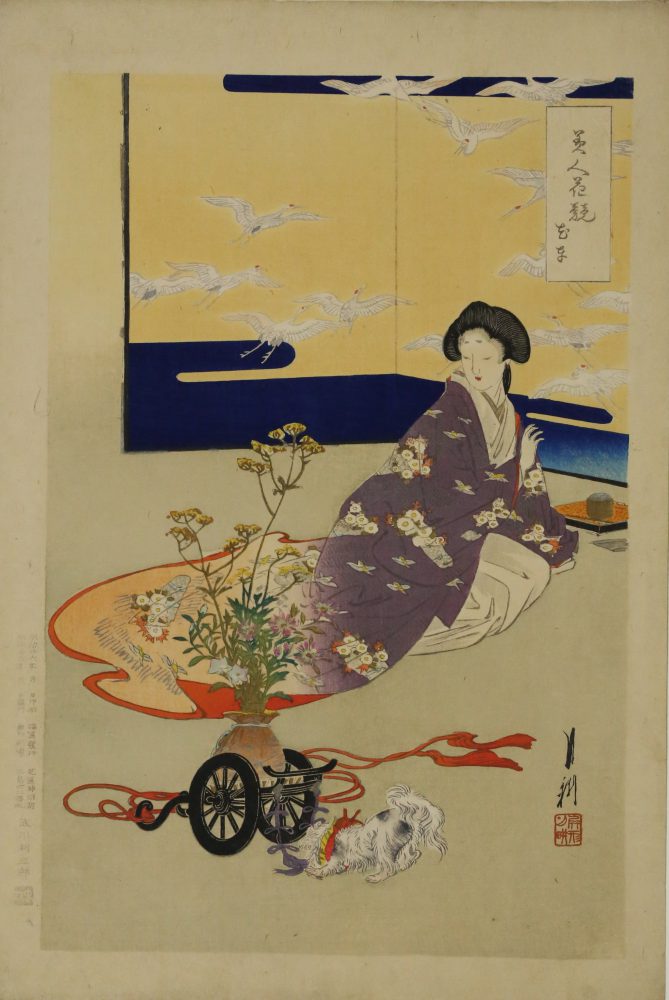 Exhibit Period
Saturday, September 29 - Sunday, November 4, 2018
Saturday, November 8 - Sunday, December 16, 2018

Exhibit Times
9:30 a.m. - 5:00 p.m.
(last admissions at 4:30 p.m.)
Museum closed
October 1,9,15,22,29 November 5,6,7,12,19,26 December 3,10
Admission Fee
Adults: 500 (450) yen High School, College Students: 300 (270) yen * Fees in parentheses are group rates for 20 or more visitors * Half price for visitors with a physical disability certificate, and half price for one accompanying caregiver
Overview
Ogata Gekko (1859-1920) was active as an artist from the Meiji to Taisho periods. Gekko did not have a teacher and learned his artistry on his own, but produced a great number of oshi-e fabric pictures and woodblock prints, and is representative of the popular artists of the age. His subject matter was wide and far-ranging and included Edo and Meiji landscapes, figure prints and ancient legends; his works appealed to many people of the age with their rich expressiveness—from delicate and sensitive flowers and beautiful women to powerful heroes.
  This exhibit introduces Ogata Gekko's flowers, beautiful women and ancient legends with an emphasis on works from the Aoki Collection. In addition, we will explore how the Noh Theater art and woodblock print works of Gekko's disciple Kogyo were born out of the same turbulent period from Meiji to Taisho.
Museum Talk
A guided tour of the exhibit in Japanese (requires payment of the below admission fee)
Sunday, September,30, 2018, beginning at 1:30 p.m. 
Saturday, November, 10, 2018, beginning at 1:30 p.m.

Presented by our curator.