ABOUT
How the Museum Was Started
In January 1995, the home of Aoki Tosaku's surviving family members was damaged during the massive Hanshin-Awaji Earthquake. In April 1996 the family proposed donating Aoki's art collection (centering on paintings and drawings by Utagawa Hiroshige) to the Town of Bato (now Nakagawa Town). Aoki Tosaku was born in the Hasamada district of Niiita Village in Shioya County (now Sakura City), Tochigi Prefecture. He operated fertilizer shops in Sakuyama, Ujiie and Nishinasuno. A successful entrepreneur, he also began collecting art, beginning with Hiroshige's paintings, drawings and woodblock prints. His family wanted to donate his collection intact to a place that would store and display it. The Nakagawa-machi Bato Hiroshige Museum of Art exhibits works with this Aoki Collection at the core. The museum was established to serve as a central cultural facility in town, and as a regional cultural facility linked to the revitalization of the Yamizo District. It seeks to enrich the cultural life of local residents, and strives to create a network for the smooth implementation of a variety of exchanges with other museums and foreign countries.
Museum Hours
 9:30 a.m. – 5:00 p.m. (last admission at 4:30 p.m.)
Museum Holidays
Mondays (except when Monday falls on a national holiday, in which case Tuesday is the holiday)
The day following a national holiday (unless this is a Saturday or Sunday, in which case the museum will be open)
The period of time during which exhibits are changed (please contact us for information)
 
Admission Charge
 
Scheduled Exhibits
Special Exhibits
 General
 500 yen

   700 yen

   400 yen

    Free

 University/Sr. High School Students
 300 yen
Elementary/Jr. High School Students
Free
Group Discounts (10%) for groups of 20 or more
Registered disabled persons + one companion: Half price
Building Guide

The building is the design of Kuma Kengo, who conceptualized a place "which expresses the artistry and tradition of Hiroshige by means of a traditional, yet subdued exterior." With its gabled roof, the roomy, single-story building merges into Nakagawa's rich, natural surroundings.
The whole museum is wrapped in latticework made of local Yamizo cedar, so that the lighting in the museum continually expresses itself in different ways, in accord with the time of day. Local materials are also used in the interior; the walls are covered with Karasuyama washi handcrafted paper, and the floors are made of Ashino-ishi stone. 
Museum Layout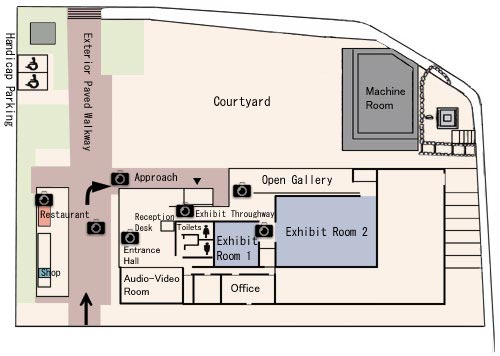 Ferro-concrete, steel-framed single-story building
Extended floor space:1962 ㎡
Two exhibit rooms, restaurant, shop
Approach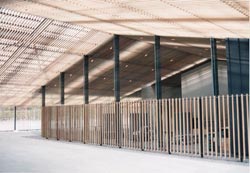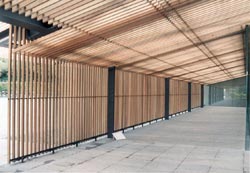 Reception / Entrance Hall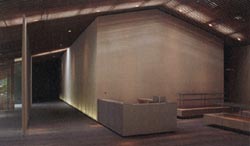 Exhibit Throughway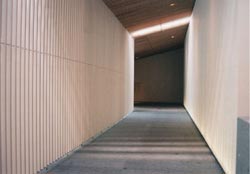 Open Gallery
Exhibit Room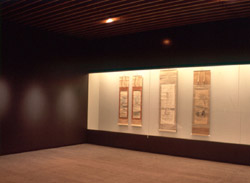 Exhibit Room 1 78.32 ㎡
Exhibit Room 2 288.86 ㎡
In both exhibit rooms, works are illuminated with gentle, fiber optic lighting.
Scheduled exhibits, featuring the museum's collection, are planned for about 10 times per year. Additionally, at least one special exhibition is planned each year.
Restaurant