Commemorating 220 years since Hiroshige's birth Special Spring Exhibition : Traveling with Hiroshige on the Tokaido Highway – with Yaji-san and Kita-san as travel companions!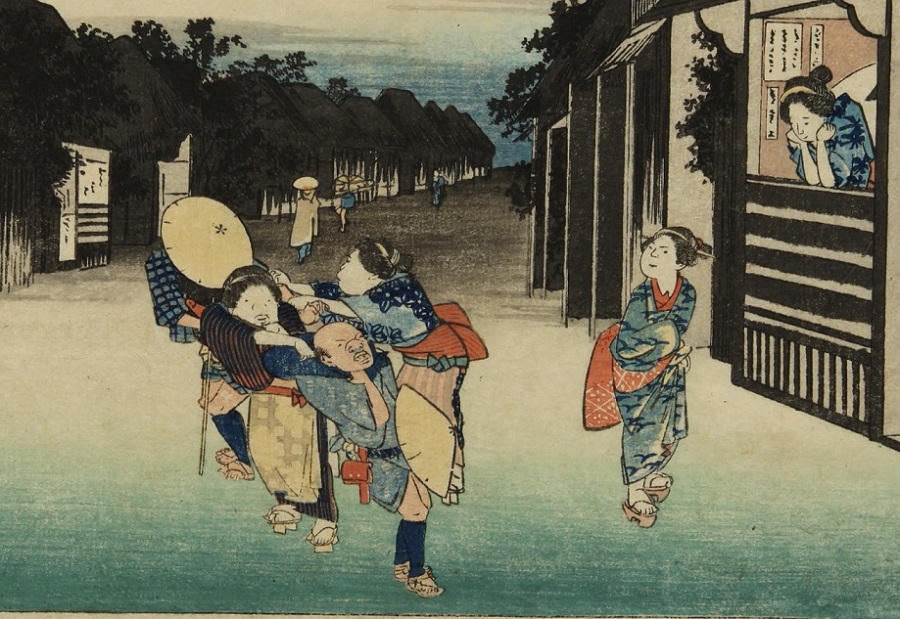 Exhibit Period
First Half: Friday, April 21 - Sunday, May, 21, 2017, Second Half: Friday, May, 26 - Sunday, June 25, 2017
Exhibit Times
9:30 a.m. - 5:00 p.m.
(last admissions at 4:30 p.m.)
Organized by
Nakagawa-machi Bato Hiroshige Museum of Art
Museum closed
Mondays (open when Monday is a national holiday), the day following national holidays
Admission Fee
Adults: 700 (630) yen High School, College Students: 400 (360) yen * Fees in parentheses are group rates for 20 or more visitors * Free admission for visitors aged over 70 years, elementary and junior high school students, and preschoolers * Half price for visitors with a physical disability certificate, and half price for one accompanying caregiver
Overview
Utagawa Hiroshige, who left his mark in ukiyo-e history as one of the greatest artists to depict famous places, produced more than 20 versions of the Tokaido Highway series in his lifetime. Among these, the Hoeido version of his Fifty-three Stations of the Tokaido Highway is known as his masterwork, the one that made him famous.

The publication of the Hoeido version of Fifty-three Stations of the Tokaido Highway was influenced by Jippensha Ikku's comic novel Tokaidochu Hizakure (translated into English as Shank's Mare), Pictures of Famous Places Along the Tokaido Highway and other works at a time of increased popular interest in travel. Hiroshige's work masterfully interweaves the seasons, weather and passage of time with the scenery and stations along the highway, creating an invitation to indulge in dreams of travel. For the people of the time, traveling the Tokaido Highway at least once in their life was a long-cherished dream.
Looking carefully at the Fifty-three Stations of the Tokaido Highway, from time to time depictions of what look like Yaji-san and Kita-san can be seen. Those who looked at these works would be able to recall the highway adventures of these two main Shank's Mare characters, and there is no doubt people excitedly imagined themselves traveling the highway along with them. This is another reason for the great fascination with the work.
Along with the Fifty-three Stations of the Tokaido Highway Hoeido version, this exhibit will display works related to the Tokaido Highway, Yaji-san and Kita-san. What kind of people might the traveler in those days encounter on the highway, and what kind of experiences could they expect? Let's travel back in time to the Edo period, and set out with Yaji-san and Kita-san at our side, going from the Nihonbashi bridge in Edo to the Sanjobashi bridge in Kyoto, a journey of approximately 500 kilometers.
Lecture
A guided tour of the exhibit in Japanese
(requires payment of the below admission fee)

Saturday, April 22, 2017, beginning at 1:30 p.m. 
Saturday, May 27, 2017, beginning at 1:30 p.m. 

Presented by our chief curator.