Scheduled Exhibition Enjoying The Tale of Genji through Ukiyo-e The World of The Rustic Genji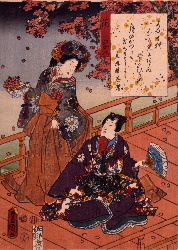 Exhibit Period
Friday, January 20, 2017 - Sunday, March 5, 2017
Exhibit Times
9:30 a.m. - 5:00 p.m.
(last admissions at 4:30 p.m.)
Organized by
Nakagawa-machi Bato Hiroshige Museum of Art
Museum closed
Mondays (open when Monday is a national holiday), the day following national holidays
Admission Fee
Adults: 500 (450) yen High School, College Students: 300 (270) yen * Fees in parentheses are group rates for 20 or more visitors * Free admission for elementary and junior high school students, and preschoolers * Half price for visitors with a physical disability certificate, and half price for one accompanying caregiver
Overview
What first comes to the mind of many Japanese when they hear of 'Genji pictures' may be the elegant picture scroll depictions of the Heian era novel The Tale of Genji.
 However, the Genji pictures popular with people living in the latter Edo period were those in The Rustic Genji picture books (written by Ryutei Tanehiko and illustrated by Utagawa Kunisada [Toyokuni III]), and the ukiyo-e of scenes depicting Ashikaga Genji, the protagonist of the story.
 The Rustic Genji resets the The Tale of Genji in the Muromachi period as a story intertwining Genji's amorous wanderings and his family troubles. From the publication of the first edition in 1829 it immediately became a bestseller, and sequels were produced in rapid succession. In response to its popularity, brocade prints of the scenes and characters in the story also began to be created.
 Whether due to rumors that it portrayed the inner palace life of then shogun Tokugawa Ienari, or the excessive opulence depicted in the book, when the Tenpo Reforms were instituted The Rustic Genji was banned before the story could be seen to its end. In spite of this Ashikaga Genji's popularity did not wane, and Genji pictures continued to be drawn by numerous ukiyo-e artists in the years that followed.
 In this exhibit, we introduce a variety of Genji pictures, focusing on the "Color Print Contest of a Modern Genji" series, the representative Genji picture work of Rustic Genji illustrator Utagawa Toyokuni III. While enjoying this twist on Murasaki Shikibu's original Tale of Genji story, discover the Genji hairstyles and stylish fashions in the world of the Genji pictures which influenced the youths of the day.
Museum Talk
A guided tour of the exhibit in Japanese (requires payment of the below admission fee)
Saturday, January 21, 2017, beginning at 1:30 p.m.
Presented by our chief curator.