Scheduled Exhibition Utagawa Kuniyoshi: "He Looks Scary, But He's Actually a Kind Person" An Exhibit from The Aoki Collection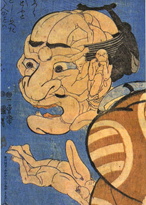 Exhibit Period
Friday, March 7, 2014 to Sunday, April 13, 2014
Exhibit Times
9:30 a.m. - 5:00 p.m.
(last admissions at 4:30 p.m.)
Organized by
Nakagawa-machi Bato Hiroshige Museum of Art
Museum closed
March 10, 17, 24, 31, April 7
Admission Fee
Adults: 500 (450) yen High School, College Students: 300 (270) yen * Fees in parentheses are group rates for 20 or more visitors * Free admission for visitors aged over 70 years, elementary and junior high school students, and preschoolers * Half price for visitors with a physical disability certificate, and half price for one accompanying caregiver
Overview
Utagawa Kuniyoshi (1797-1861) was an ukiyo-e artist and contemporary of Hiroshige (1797-1858).
 Kuniyoshi, a pupil of Utagawa Toyokuni—one of the leading figures in the world of ukiyo-e art—went without a hit work until about age thirty. His publication of the warrior print series "One Hundred and Eight Popular Warrior Heroes from Shui-hu ch'uan" in around 1827, following the death of his master, was well-received, securing his place among leading ukiyo-e artists. He joined "Toyokuni III, the Actor Artist" and "Hiroshige, the Famous Places Artist" as "Kuniyoshi, the Warrior Artist."
 However, Kuniyoshi did not content himself with the popularity of his warrior prints, but produced works in every field, from ukiyo-e's traditional subjects—figures, artists and famous places—to historical events, caricatures, and illustrations for publication in the mass media. Through many totally unexpected ideas, such as landscapes incorporating Western artistry, historical works that included satire of the Shogunate, and trompe l'oeil illusions that combined cats, humans and other subjects, he demonstrated an innate talent that was unparalleled. The "genius of Edo" truly fit Kuniyoshi. His innovative designs are also highly regarded internationally.
 In this exhibit, we survey Kuniyoshi 's artistic work, introducing artwork from many diverse fields, including his masterpiece caricature, "He Looks Scary, But He's Actually a Kind Person," "One Hundred Poems by One Hundred Poets," and his warrior prints and figure prints.
 Through this exhibit, we hope you will discover a new fascination with Kuniyoshi.
Museum Talk
Presented by a Hiroshige Museum Curator
Saturday, March 8, 2014
1:30 p.m. (requires payment of admission fee)
Lecture
Commemorative Lecture
Presented by Hiroko Nagai, a chief curator, Nakagawa-machi Bato Hiroshige Museum of Art
Saturday, March 22 at 1:30 p.m.
Lecture Title: "Utagawa Kuniyoshi and His Age"