Scheduled Exhibition 【Ukiyo-e Artists and Kyoka Poets –Gift Prints from the Collection of Chiba City Museum of Art 】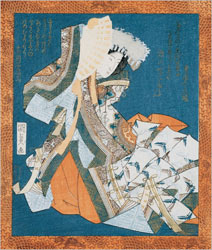 Exhibit Period
January 15 (Fri) - February 21 (Sun), 2010
Exhibit Times
9:30 a.m. - 5:00 p.m.
(last admissions at 4:30 p.m.)
Organized by
The Nakagawa-machi Bato Hiroshige Museum of Art
Museum closed
January 18 (Mon), 25 (Mon), February 1 (Mon), 8 (Mon), 12 (Fri), 15 (Mon)
Admission Fee
Adults 500 (450) yen; High School, College Students: 300 (270) yen; Elementary, Junior High School Students: 100 (90) yen * Fees in parentheses are group rates for 20 or more visitors * Free admission for visitors aged over 70 years and preschoolers * Half price for visitors with a physical disability certificate, and half price for one accompanying caregiver
Overview
In the world of ukiyo-e prints, in addition to one-sheet prints for sale there are surimono, prints created as not-for-sale gifts. They are usually luxuriously made using sophisticated colors and deliberate printing techniques. Since they are privately issued, they have a different character than other ukiyo-e prints for sale.
There are various kinds of gift prints such as haikai poem prints, calendar prints, and memorial prints; many kyoka poem prints were produced especially in the first half of the 19th century with the increase of the popularity of kyoka poetry. Ukiyo-e artists were often involved in the production of such gift prints.
This exhibition introduces gift prints made in the first half of the 19th century, on loan from the collection of the Chiba City Museum of Art. Surimono are of particular value because comparatively so few were produced that we have few chances to see them. We hope you will appreciate the sensibility of the connoisseurs in the Edo period and learn the charm of such elegant prints.
Museum Talk
Presented by a museum curator on January 16 (Sat), 2010.
Starts at 1:30 p.m.

Payment of museum admission fee is required.