Scheduled Exhibition Comparison of Beautiful Women and Flowers – The World of Genre Artist Ogata Gekko –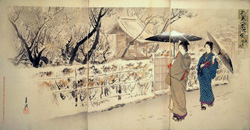 Exhibit Period
March 6 (Thurs) - April 13 (Sun), 2008
Exhibit Times
9:30 a.m. - 5:00 p.m.
(last admissions at 4:30 p.m.)
Museum closed
Mondays. Also closed on Friday, March 21
Admission Fee
Adults: 500 (450) yen; High School, College Students: 300 (270) Elementary, Junior High School Students: 100 (90) yen * Fees in parentheses are group rates for 20 or more patrons * Free admission for patrons aged 70 years and over, and preschoolers * Half-price for patrons (with a Disability I.D., etc.) with accessibility and special needs, and for one accompanying caregiver
Overview
At the end of the Meiji Era, a wide variety of woodblock prints and hand-painted works illustrated newspapers and magazines such as "Fuzoku Gaho." One artist who we see active in this field of genre art, depicting the lives of the common people in the Edo and Meiji periods, was Ogata Gekko (1859-1920). Without a teacher, he studied art on his own, steadily building up his experience as an artist, and becoming representative of the popular artists of the era.
The period from 1887-1906, when Gekko was most active as a woodblock print artist, was a time of great turmoil. The Sino-Japanese and Russo-Japanese Wars broke out, and media produced with the new technology of lithography battled with traditional ukiyo-e woodblock prints for supremacy of the printing world. We turn our attention to this period, selecting works from series in this museum's Aoki Collection, introducing you to Bijin Hana Kurabe and Hana Bijin Meisho Awase which combine beautiful women and flowers, and the Gekko Zuihitsu series in which he covered mythical legends. In conjunction, we will exhibit Noh artwork by Gekko's pupil Tsukioka Kogyo, searching for the impact Gekko had on his pupil.
The images of women which Gekko drew have a graceful and gentle feel to them, and were beloved by a broad spectrum of women, both young and old alike. However, in contrast to his popularity at the time, we can't exactly say that his name is known by many people today. We hope that this exhibit will provide visitors the chance to discover the hidden charm of genre artist Ogata Gekko.
Museum Talk
Presented by one of our curators on the following Saturdays:
March 8, March 22
 Both talks begin at 1:30 p.m
Sponsor
Sponsored by
The Nakagawa-machi Bato Hiroshige Museum of Art