Of the Meiji Era, Artist of Famous Places:Kobayashi Kiyochika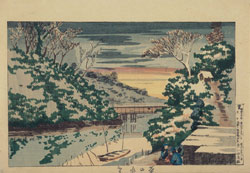 Exhibit Period
February 8 (Thurs) to March 11, 2007 (Sun)
Exhibit Times
9:30 a.m. - 5:00 p.m.
(last admissions at 4:30 p.m.)
Museum closed
Closed Mondays, but open February 12 Closed February 13 (Tues)
Admission Fee
Adult ----------------------------------500yen (450yen) High School, College Students----------300 yen(270yen) Junior High School Students -----------100yen (90yen) * Fees in parentheses are group rates for 20 or more patrons * Free admission for patrons aged 70 years and over * Half-price for patrons with accessibility and special needs,and for one accompanying caregiver.
Overview
Kobayashi Kiyochika (1847-1915) produced a series of landscape prints from 1876 inscribed with the name Kosenga and left a big mark in the history of Japanese woodblock prints. Kosenga cannot be classified as traditional Ukiyoe. Its realistic method of composition, delicately capturing shimmering morning, evening and night lighting and colors in space conveys a fresh, new feeling to the viewer. During the Meiji era, a time when Japan was flooded with Western civilization, Kiyochika takes these techniques to form views and landscapes of the last vestiges of the old Edo.
This time, we present works of various landscapes and things of Edo, by Kiyochika, one who knew Edo intimately. Also, we present works by an artist who understood Kiyochika: a pupil who carried on in the same style, Inoue Yasuji. These works are of famous places in Tokyo. We hope a visit to this exhibition will take you back in time, over 120 years ago to the Meiji Era, and offer a chance to breathe in that which is all but lost.
Museum Talk
Presented by one of our curators on the following Saturdays:
February 10, 2007 from 1:30 p.m.;
February 24, 2007 from 1:30 p.m.
Payment of museum admission fee is required