Famous Places of Hiroshige's Tokaido – "The Fifty-three Famous Sights Series" –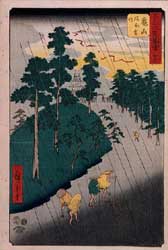 Exhibit Period
Thurs. 2nd June – Sun. 3rd July 2005
Exhibit Times
9:30 a.m. - 5:00 p.m.
(last admissions at 4:30 p.m.)
Museum closed
Mondays
Admission Fee
Adults: 500yen (450yen)* Student (High school & university): 300yen (270yen)* Elementary/middle school students:100yen (90yen)* * Figures in brackets indicate group rates for groups of twenty or more. Over 70s, pre-school children: Free Disabled people + 1 companion: Half price
Overview
Following the 1833 success of "Fifty-three Stations of the Tokaido" (his renowned "Hoeido Edition"), ukiyo-e master Utagawa Hiroshige (1797-1858) went on to produce around twenty more series featuring sights along the famous Tokaido highway.
Hiroshige's "highway pictures" evoke the lyricism of life on the road by depicting different seasons and hours, and the customs of each highway town.
This exhibition presents the "The Fifty-three Famous Sights Series" (Gojusan Tsugi Meisho Zue ), which he produced in 1855 at age fifty-nine. This series is commonly known as the Tate-e ("Vertical" or "Upright") Tokaido for its unusual use of a portrait page format for landscape pictures. It is also known as the last of Hiroshige's Tokaido series, and could be regarded as something of a finale, bringing together the best of all that had gone before.
This exhibition is a chance to view all the fifty-five works of this masterpiece series, so join Hiroshige and walk the Tokaido highway in days of the shoguns!
Museum Talk
Presented by our curator - Japanese only
Sat. 4th June, Sat. 18th June
Start: 1:30pm