The Aoki Collection Heroes in Ukiyo-e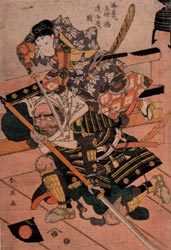 Exhibit Period
Thu.11th Aug. - Mon.19th Sep.2005
Exhibit Times
9:30 a.m. - 5:00 p.m.
(last admissions at 4:30 p.m.)
Museum closed
Mondays (except 19th Sept.)
Admission Fee
Adults: 500yen (450yen)* Student (High school & university): 300yen (270yen)* Elementary/middle school students: 100yen (90yen)* * Figures in brackets indicate group rates for groups of twenty or more. Over 70s, pre-school children: Free Disabled people + 1 companion: Half price
Overview
A long time ago, in a land far away…
Wandering poets went on epic journeys, and swashbuckling samurai featured in stirring tales of breathtaking courage, loyalty, honour and revenge. During the Edo period, heroes of both fact and fiction became widely known amongthe common people through the celebration of their exploits on stage and in print.
In this exhibition, centring on the Aoki Collection, we invite you to witness the incredible exploits of such heroes through the ukiyo-e beloved by the common people. We present a host of legendary figures and episodes spanning a whole spectrum of humanity from brave samurai to the elegant world of the sophisticated Kyoto aristocrats to which every commoner aspired.
Museum Talk
Presented by our curator - Japanese only
Sat.13th Aug., Sat.27th Aug., Sat.3th Sep.
Start: 1:30pm