– A Scheduled Exhibition Celebrating the 50th Anniversary of Municipal Consolidation – On the Road during the Edo Period: The Fifty-Three Stations of the Tokaido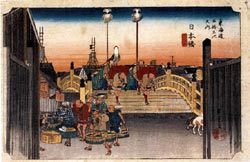 Exhibit Period
August 5 (Thursday) – September 5 (Sunday), 2004
Exhibit Times
9:30 a.m. - 5:00 p.m.
(last admissions at 4:30 p.m.)
Museum closed
Mondays, and the day following a holiday (except when this falls on a Saturday or Sunday)
Admission Fee
Adults: 500yen High School, College Students: 300yen Elementary, Junior High School Students: 100yen (Discounts are available for groups of 20 or more, the handicapped and the elderly)
Overview
On July 1, 1954 the municipalities of Mumo Village, Oyamada Village, Ouchi Village and the former Bato Town were consolidated, and the newly-formed Bato Town was born. This year is exactly the 50th anniversary. At the museum, we celebrate this special year with a collection of prints we have newly purchased ---all 55 prints of Utagawa Hiroshige's most important work, "The 55 Stations of the Tokaido Highway"---presented in a single exhibition. Utagawa Hiroshige (1797-1858) incorporated the four seasons, the weather, and changes throughout the day into his scenes of the post towns. This richly lyrical series of scenes along the road became widely popular in their day, and determined Hiroshige's career as an artist who drew landscapes of famous locations. These works are Hiroshige's most famous, and continue to be beloved by us today.
By experiencing the customs of the travelers and the post towns through these works, we hope you will be able to get a taste of life on the Tokaido highway.
Museum Talk
Presented by one of our curators
Saturday, August 7, 2004; Saturday, August 14, 2004;
Saturday, August 21, 2004; Saturday, August 28, 2004;
all talks begin at 1:30 p.m.
Lecture
"Hiroshige's 53 Stations of the Tokaido Highway"
Ichikawa Shinya, curator, Bato-machi Hiroshige Museum
Saturday, August 14, 2004; from 1:30 p.m. – 3:00 p.m.