Hiroshige and Hokusai's Thirty-six Views of Mount Fuji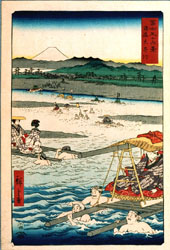 Exhibit Period
Tuesday, April 23 - Sunday, June 2, 2002

Exhibit Times
9:30 a.m. - 5:00 p.m.
(last admissions at 4:30 p.m.)
Museum closed
Mondays (when the Monday is a national holiday, the museum will be open); the day following a national holiday (when this day is a Saturday, the museum will be open)
Admission Fee
Adults: 500yen Senior High School and University Students: 300yen Elementary and Junior High School Students: 100yen Handicapped visitors and those visitors age 65 and older are admitted for half-price
Overview
The ukiyo-e practice of drawing scenic landscapes was established when Katsushika Hokusai (1760-1849) produced his "Thirty-six Views of Mt. Fuji" around turn of the decade in 1830. Hokusai published "A Tour of Waterfalls in the Provinces," and "A Look at Famous Bridges in the Provinces," but following their publication he concentrated his efforts on book illustrations and paintings, and stopped drawing woodblock print landscapes.
In 1833, Utagawa Hiroshige (1797-1858) likewise drew his "Fifty-three Stations of the Tokaido," securing popularity from that time onward. He firmly established his position as a landscape artist with the successive production of "Famous Places in Edo," "Famous Places in Kyoto," "Drawings of Famous Places in Naniwa" and "Eight Views of Edo," and other landscape works of famous locations. Perhaps spurred on by Hokusai, he produced "Thirty-six Views of Fuji" in about 1852, and "Thirty-six Views of Mt. Fuji" at the end of his career.
In this exhibit, by comparing the works in Hiroshige's "Thirty-six Views of Mt. Fuji" to those of Hokusai, with the common theme of "Mt. Fuji," we hope to introduce the differences in each's style.
Museum Talk
Presented by a Bato-machi Hiroshige Museum curator
Saturday, April 27; Saturday, May 25 Talks begin at 1:30 p.m.
Lecture
Presented by Shinichi Inagaki, Bato-machi Hiroshige Museum Director
Saturday, May 4 Lecture goes from 1:30 p.m. - 3:00 p.m.