The Ghosts and Monsters of Ukiyo-e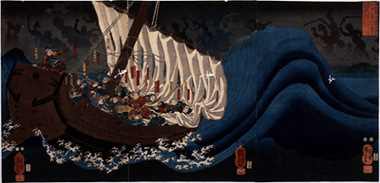 Exhibit Period
First Half: Friday, July 5 - Sunday, August 4, 2002
Second Half: Thursday, 2002 August 8 - Sunday, September 9, 2002
Exhibit Times
9:30 a.m. - 5:00 p.m.
(last admissions at 4:30 p.m.)
Museum closed
Mondays (except when Monday is a national holiday); the day following a national holiday (except Saturdays, when the museum will be open); the period while exhibits are being changed (Monday, August 5 - Wednesday, August 7)
Admission Fee
Adults: 500yen High School Students: 300yen Elementary & Junior High School Students: 100yen (Groups of 20 or more, as well as the handicapped or those over age 65, are admitted for half-price)
Overview
Ghosts and monsters have long been dealt with as subjects of art, and in ukiyo-e art as well artists expressively depicted them with the same frequency as they depicted women and actors. In the evening, the people could rely only on the moonlight, and on lanterns to light up the darkness under their footsteps, while the surroundings were cloaked in darkness. It was a period when one couldn't disbelieve that ghosts and monsters existed and were lurking here and there in the darkness. The common folk of Edo were frightened of and dreaded ghosts and monsters, but in their curiosity they had an appetite to see scary things. On this occasion, we are introducing works of ghosts and monsters on which the artists of ukiyo-e competed to depict with humor and originality.
Museum Talk
Presented by a museum curator on Saturday, July 6 (for the first half) and Saturday, August 31 (for the second half); both talks begin at 1:30 p.m.
Lecture
"The Monsters of Edo," presented by museum director Shinichi Inagaki on Saturday, July 20, from 1:30 p.m. - 3:00 p.m.
A special summer vacation exhibit, "I'm Scared! But I Want to See Them: A Ghost and Monster Adventure," will be set up for children on Saturday, July 27 and Saturday, August 17, from 9:30 a.m. to 5:00 p.m. (last admission at 4:30 p.m.).